Mobile app development
In a mobile-first world, customers and workers want more ways to engage with your brand. Build apps to meet their needs, faster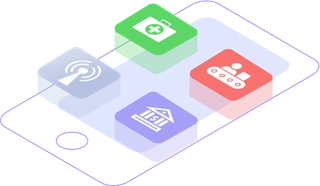 Designing a successful Mobile Application for your business that can be used effortlessly by the end-user and will enable easy and hassle-free reviewing and purchase of your products and services, is a very complex task. It takes experience to design and deliver flawless Mobile Apps that can boost your business to newer levels. Our widespread proficiency in mobile app development places us among one of the best mobile app development companies in India. We have developed hundreds of profit enhancing mobile apps for our reputed clients enhancing their reachability and overall profit to a great extent.
Building the future requires the agility of action and attitude. Our extended teams provide scale, experience, acceleration, and a whole lot of talent - to help you rapidly create modern apps that engage users. We are determined to provide mobile app development services at its best and proud to have an enormous base of offshore clients along with some of the top domestic brands. With our intense experience methodologies and development process,we provide top-class mobile app solutions using cutting edge technologies.
Native App Development Services
Native B2B and consumer apps allow you to utilize the inherent power of iOS and Android platforms with secure and performant apps.
Hybrid Cross-platform App Development Services
Utilize the power of React Native, Flutter, and Xamarin to develop apps for multiple platforms while sharing the same code base.
Business Analysis & Consulting Services
Whether you are looking to develop business apps or apps to service customers, our consultants can help you define the right tech plan.
Business Apps and API Integration Services
Integrate your mobile app(s) with services you are already using and extend their use cases for your employees and users.
Enterprise Mobile AppsCustomized mobile solutions
We help to drive your operations. For example, a CMS to organize and publish content, all in a simple screen.
Apps for Internet of Things
Unlock the potential of high functioning mobile apps that interact with hardware/wearables/IoT through Wi-Fi, Bluetooth, NFC, and more.
Unlock new business opportunities with mobile apps
We help companies identify and unlock opportunities in mobility. Apps we develop bring the power of enterprise solutions to your workforce while delivering consumer-grade user experience.
Benefits of working with Lmond
For 6+ years, Lmond has been helping companies in Manufacturing, Healthcare, Banking, Telecom, Retail, and other industries build enterprise mobile apps. Our apps have helped automate 90% of operations for a transportation company, cut down the maintenance cost for a food company by 40%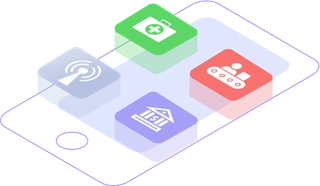 Strategy and consulting to set the right goals
We collaborate with you to understand your business needs, identify processes that can be streamlined, define the user experience, and build a tech delivery roadmap that aligns with your goals.
Bringing the Lean approach to apps
Our Product team takes your ideas and turns them into high output apps with high ROI and retention rates. We use user research, user testing, and design thinking to bring consumerization to your IT.
Incorporate security best practices
Mobile app testing best practices reduce the security risks, tests potential vulnerabilities and incorporates data encryption. With all the steps we take, you can be confident that mobile apps will always be secure.
We know that if client's project launches smoothly, they'll come back for more. We're willing to over-invest in guaranteeing results, rather than under-invest to make our financial reports look pretty in the short-run.
BUILD BUSINESS / GROW TRAFFIC / INCREASE REVENUE
Tell us about your project
Let us help you get your business online and grow it with passion
Thrive online — get best unbeatable interactive experience based on the smart design and innovative technology. Ready to get started?
Lmond has been a great help to our agency and we wouldn't be where we're at without you!
I have been extremely impressed with your entire organization at every touchpoint.
Working with Lmond has been a joy. They are very detailed and organized. They make sure...
Corinne Lemmon
Marketing Director